Día Internacional del Yoga - Sábado 18 de junio.
International Yoga Day - Saturday, the 18th of June
Nazioarteko Yoga Eguna - Igandea, ekainak 18a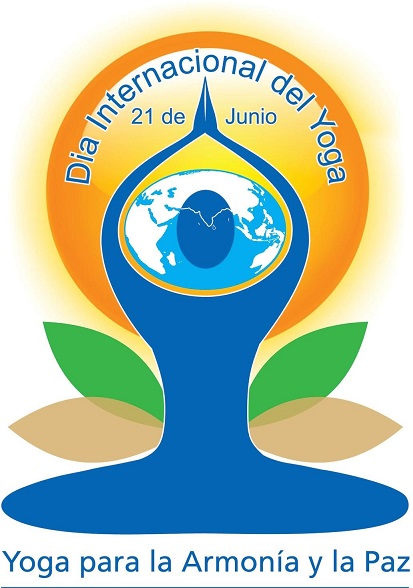 A finales del año 2014, la Asamblea General de las Naciones Unidas decidió proclamar el 21 de junio como Día Internacional del Yoga, en reconocimiento al enfoque holísitco de la salud y el bienestar que ofrece la práctica de yoga y con la intención de ayudar a su difusión.
El pasado mes de junio del 2015 tuvo lugar el primer Día Internacional del Yoga, con eventos en todo el mundo en los que miles de escuelas de yoga abrieron sus puertas o salieron a la calle para poner sus enseñanzas al alcance de todo el mundo.
El año pasado no estábamos aún listos en Ashtanga Yoga Bilbao para participar, pero este año sí y vamos a proponer algunas actividades que tendrán lugar, por ser una fecha más conveniente, el próximo sábado 18 de junio. ¡Estáis todos invitados! Todas las actividades son GRATUITAS pero, por favor, si quieres participar en alguna de ellas ponte en contacto con nosotros para que podamos hacernos una idea de con cuánta gente vamos a contar.
11:00-13:00: Clase guiada de la primera serie de Ashtanga Yoga

Se trata de una clase que tiene lugar habitualmente todos los sábados en Ashtanga Yoga Bilbao. Como novedad, en esta ocasión la clase la guiará el propio Sharath Jois, Director del Instituto de Ashtanga Yoga en Mysore, a través de una grabación de audio. Se harán algunas pausas de cortesía en la grabación para dar tiempo en entrar en algunas asanas, pero no es una clase recomendable para principiantes. Todas las personas que conozcan la práctica de la primera serie de Ashtanga Yoga (toda la primera serie o parte), sean alumnos nuestros o no, son bienvenidas pero, por favor, si no conoces la práctica de Ashtanga Yoga puedes quedarte como espectador o acude mejor a la clase de la tarde.

16:00-18:00: Proyección del documental "Breath of the Gods"

Veremos el documental "La respiración de los Dioses, un viaje a los orígenes del yoga moderno", en el que se relata mediante recreaciones históricas y entrevistas con los personajes reales la historia de Krishnamacharya y de algunos de sus discípulos que más han contribuido a la difusión del yoga en el mundo: BKS Iyengar y Pattabhi Jois. Si quieres aprender acerca de los orígenes del yoga de Krishnamacharya y descubrir que mucho o poco de lo que sabes de yoga se lo debes a él, no puedes perderte este documental. Versión original en inglés con subtítulos en castellano. Tras la proyección habrá un espacio para preguntas.

18:30-20:30: Clase guiada de Ashtanga Yoga "suave"

Con adaptaciones y simplificaciones para que cualquiera pueda tener una pequeña experiencia práctica de Ashtanga Yoga. Comenzaremos con una introducción teórica y algunos ejercicios de respiración. Clase adecuada para principiantes sin ninguna experiencia previa y también para experimentados curiosos.
Todos los eventos son GRATUITOS seas o no estudiante de Ashtanga Yoga Bilbao. Tan sólo te pedimos que te pongas en contacto con nosotros para confirmar tu asistencia. Escríbenos a info@ashtangayogabilbao.com o llámanos por teléfono (696123011).
Todas las actividades serán dirigidas por Fernando Gorostiza, profesor autorizado por el Instituto de Ashtanga Yoga en Mysore, India.